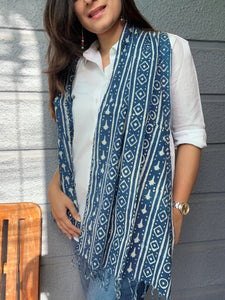 This Sooti Scarf is a perfect blend of ethnic and modern. The print on the scarves make it look modern and contemporary. 
The fabric is soft and airy, perfect as a summer scarf. The length is just perfect to try various styles without getting overwhelmed about managing it.
Scarf is 

1.6 meter long & 25 inch wide

Mud resist print is done on it, comes with tassels at both ends

Fabric – 100 % Cotton
Wash & Care Instructions – Hand wash preferred or machines wash on gentle cycle.