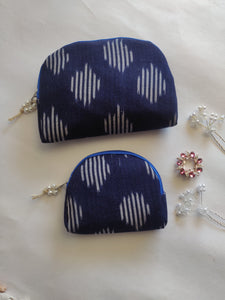 Sooti multipurpose travel organizer pouches for keeping make-up, medicines, electronics, toiletries, etc.
Comes with 2 pouches of different sizes. Large and small.
Make-up or electronics can be stored in the big pouch, small one can be used for lipsticks or coins and keeping petty cash. 
These pouches are made out of scrap fabric left from garment making.
Dimensions:-
Large - 8 inches by 5.5 inches
Small - 6 inches by 4 inches
Lined with solid cotton fabric and has a zip closer.